Hey everyone!
I'm back again with another Influenster review! This time around I was sent the Baking Soda VoxBox!
Biore has released a new line of pore cleaning products with baking soda!
Yes, that's right, baking soda does more than just remove odor and help baked goods rise; it is also a great exfoliator.
I actually use baking soda as a substitute teeth whitener. Once every two weeks, I dab my brush with toothpaste into baking soda. My teeth feel super duper clean and my teeth are whitened in the process. Win, win. But it really does erode your teeth enamel so do not use it more than once a week. My younger self and my dentist will attest to that.
Biore released two cleansing products:
1) Baking Soda Pore Cleanser
2) Baking Soda Cleansing Scrub
If you're not familiar with Biore, the brand focuses on skincare products that help fight acne, blackheads and clogged pores. I'm sure everyone is most familiar with their pore strips! All those blackheads you pull off your nose. So gross, yet so addictive and fascinating!
Let's take a closer look and see how these two products faired:
Cleansing Scrub
From the Biore
website
:
This powder scrub activates with water to remove oil from your t-zone while exfoliating dry, flaky skin
As you know, I have quite an oily t-zone, so I'm always on the quest for cleaner pores. When I read that I would be receiving these products, I was super excited as I really enjoy using Biore products. Though the last product I used of theirs was the Deep Pore Charcoal Cleanser; which I thought was mediocre.
Packaging
The packaging is simple which I like. As you can see from the first photo, the lid opens up when you press the blue button. It has a small hole that helps dispense the perfect amount you need. I dislike the packaging that uses the baby powder cover, with multiple holes like below: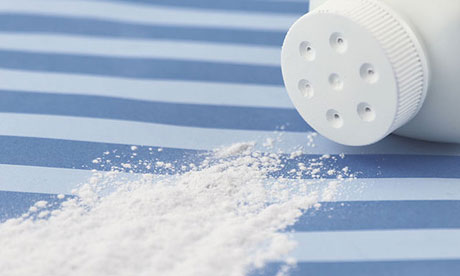 Credit: theguardian.com
I mean, look at the mess it creates! The powder is everywhere! Luckily there are no issues like that with this container.
Product
The product is actually really interesting. As you can see on the photo to the right, once you add water, it immediately foams up. When you apply it to your face, it still continues to foam. I would recommend not adding too much water. If you do, then you'll be basically rubbing all foam on your face and it will not exfoliate the skin enough.
Originally when I first tried this product out, I didn't think it would be able to really scrub my face. It's a powder that foams up once it touches water. But this is why it's important to only put a little bit of water at a time. I apply this on my nose and forehead first since it's where my pores are the worst. I can feel the little grains of baking soda dissolving when I rub it on my skin.
Even with the light exfoliate, it does a really good job in cleaning my pores. I looked in the mirror and although it did not clear out all blackheads, a lot of my pores looked less clogged. My skin also felt incredibly soft. I have to admit, I was rubbing my cheeks for a bit because I was so impressed at how smooth it made my skin feel. Smooth like a baby's butt!
Most importantly, after I rinsed my face, it didn't feel dry or pulled. Most cleansers really dry out my skin and I end up grabbing my toner or serum for immediate moisture. It's not a great feeling. This on the other hand lets me take my time with the rest of my skincare routine.
As for the scent, it smells strongly of citrus. It can be sometimes really overpowering, but to me, it's not dreadful.
Since this is a scrub, it is recommended to use this 1-2 times a week.
Pore Cleanser
From the Biore
website
:
Ideal for combination skin, this oil-free formula contains cleansing ingredients that excavate grime and oil from pores. At the same time, the formula gently smooths away dead cells
In a nutshell, it's another light scrub that is gentle enough for daily use; that ultimately unclogs pores and provides smoother skin.
Packaging
Not much to say about the packaging since it is exactly the same as the
Charcoal Pore Cleanser
as well. The nice thing about Biore is that they keep their packaging consistent within their product lines. I could walk by, see the bottle from behind and know that it's Biore.
Product
Honestly, I wasn't really impressed with this cleanser. I have high praise for the scrub, but disappointment for this.
It doesn't seem any different to the charcoal cleanser, aside from the colour. The cleanser is essentially the same; it really reminds me of liquid soap with the baking powder mixed in. The exfoliate is really gentle. When I'm rubbing the cleanser in my hands to lather it (also worth mentioning it doesn't lather much either), I can feel the baking soda beads. But once I begin to rub the cleanser into my face, I feel nothing at all.
My skin does feel dry after, but even compared to the scrub, it does not feel as soft and smooth.
Not to mention, I tried using the cleanser with light makeup on. I still had so much makeup left on my face! I had to double cleanse and use a makeup wipe just in case. I really was not impressed.
The thing I most dislike about this is that after I rinse my face, my skin felt so incredibly dry. Almost immediately after I pat my face with a towel, my skin felt dehydrated. Basically immediate after I wash my face and dry it, I have to grab my toner and serum to moisturize. The feeling was just unbearable.
Overall Thoughts
I quite like the scrub and I will continue using it once a week. The powder dissolves pretty quickly so it's not too abrasive on the skin. My pores look more clear and best of all, it leaves skin feeling incredibly soft and smooth. Prices may vary but it is available at Walmart for $11.97CAD + taxes.
The cleanser on the other hand I could really do without. My pores were pretty clean after use, but how dry my skin felt after was the deciding factor for me. The negatives for the cleanser outweigh the positives.
I would forgo the purchase of the cleanser and go with the scrub instead.
Prices may vary but it is available at Walmart for $7.97CAD + taxes.
Have you tried these products yet? What are your thoughts? If not, which product are you most interested in trying?
*I received these products complimentary from Influenster for review purposes. It does not influence my opinion and it is 100% my own.